Free Shipping on All U.S. Orders
All Orders Processed on a Secure Server
Reloading Bench Plans
Build a Rock Solid Reloading Bench for Shotgun, Rifle and Pistol Ammunition
Build an ammunition reloading bench for shotgun, rifle and pistol. This easy to build reloading bench is free standing and gives you a rock solid base for your reloading presses. It features a 30 inch by 48 inch work surface, 39 inch high bench top and ample, convenient storage shelving for equipment, materials, reloading supplies and tools.

Plan Number SRB48

Reloading
Bench Plans

Price $12.95
FREE
Shipping
This reloading bench layout also features an interchangeable reloading press base mount for fast and easy reloading press changes and setup without drilling additional holes in the bench top.
Additional DIY Reloading Bench features:

Uses Standard Dimensional Lumber
Removable Storage Shelves for Ease of Moving
Easily Adaptable for Varying Reloading Bench Height
Uses 1 Plywood Sheet with Minimal Waste
Extremely Sturdy Base for All Reloading Presses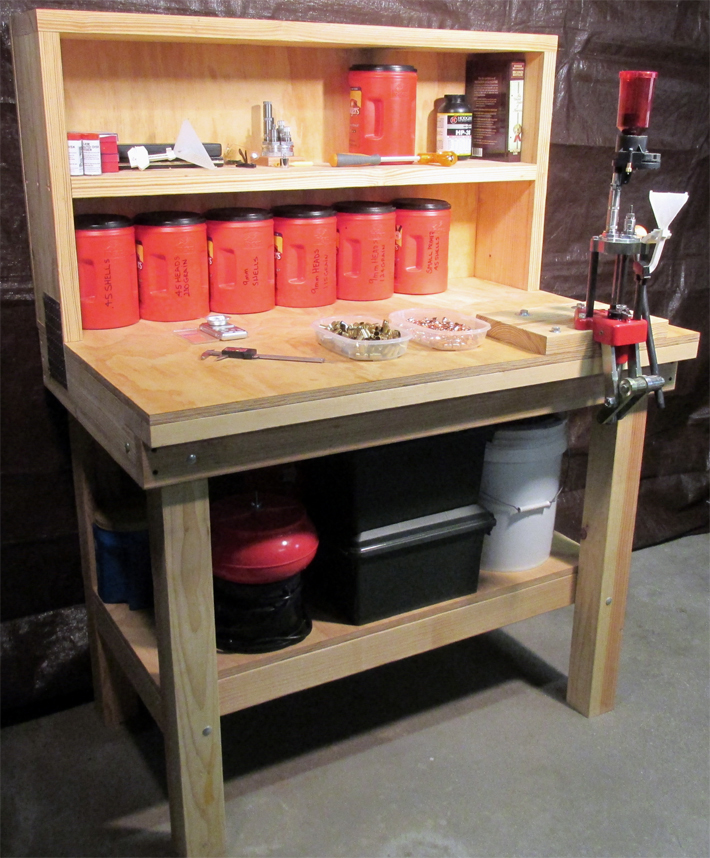 These printed Reloading Bench Plans include:
Materials Shopping List
Measured Drawings for all Parts
Plywood Sheet Cut Plan
Assembly Drawings
Construction Notes
Photo of Completed Project
Ammuntion Reloading Bench dimensions when built:

Bench top is 48 inches wide x 30 inches deep x 39 inches high
Overall is 48 inches wide x 30 ¾ inches deep x 63 ½ inches high
---
---
More Reloading Bench Designs and DIY Plans

---
| | |
| --- | --- |
| | |
| Project Plans | |
Save with Multi-Plan Deals



2 Plans $19.95 FREE Shipping



Select 2 Plans






3 Plans $24.95 FREE Shipping



Select 3 Plans






4 Plans $29.95 FREE Shipping



Select 4 Plans






6 Plans $36.95 FREE Shipping



Select 6 Plans