---
Crusades
Siege of a Mohammedan fortification during the crusades

---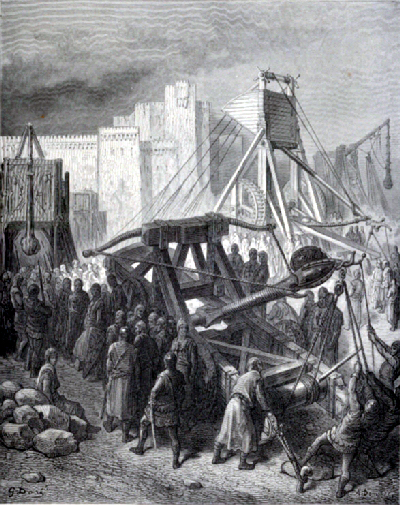 In the foreground is a bow powered catapult, or stone thrower, a cross between a giant crossbow and roman mangonel.

To right is a hybrid trebuchet , a combination of the traction trebuchet and counterweight trebuchet. A traction trebuchet uses men, pulling on ropes attached to the short end of the beam, as the motive force, while a counterweight trebuchet uses gravity and the mass of a stone and earth filled cabinet.

A modern variation of the traction trebuchet use springs or elastic cords for motive force.

To the left is a battering ram showing the hanging ram, suspension frame and protective housing.

More Siege Scenes:

---
---
---
<! Multi-Pack Insert Starts Here>
---
Save up to 50% with Multi-Plan Deals
---
2 Plans $19.95 FREE Shipping - Save Over 30%
U.S. Orders Only

<! Multi-Pack Insert Ends Here> <!Trebuchet Kit Insert Starts Here>
---
| | |
| --- | --- |
| Do It Yourself Working Model Trebuchet Kit | |
---
Trebuchet Kit
Item #TK

$75.00
Free
Shipping
U.S. Orders Only

The trebuchet kit includes fully precut and drilled frame parts, pins and axles, sling cord and sewn pouch, projectiles and fully illustrated assembly and firing instructions.

Unlike the flimsy, snap together plywood trebuchet kits, this all hardwood trebuchet kit does not require additional cutting, trimming or shaping.

This DIY Trebuchet Kit requires only white carpenter's glue and a few bar clamps (not included) to assemble.
<!Trebuchet Kit Insert Ends Here> <! Fully assembled model insert starts here>
---
| | |
| --- | --- |
| Fully Assembled Working Model Trebuchet | |
---

daVinci Trebuchet
Item # T4

$299.00
Free
Shipping
U.S. Orders Only

Inspired by the great war machines and siege catapults of Leonardo da Vinci , this all Red Oak hardwood trebuchet features an open counterweight cabinet for range and trajectory adjustment.

Fire with an empty counterweight for indoor use, or add weight (nuts, bolts, scrap lead, iron or steel, sand, or small rocks not included) for increased range.

Individually crafted from cabinet-grade red oak, the da Vinci Trebuchet stands 14 inches tall in the cocked position, 24 inches tall in the fired position and will hurl a projectile up to 60 feet. Includes six projectiles and fully illustrated instructions.
<! Fully assembled model insert ends here>
---
Crusades Siege of a Mohammedan fortification during the crusades