---
Leonardo da Vinci
Leonardo's Life and Work
---
Leonardo da Vinci was born on April 15 1452 in the small village of Vinci, just outside Florence Italy. The illegitimate son of a Florentine notary and a peasant woman, Leonardo was raised and educated by his father.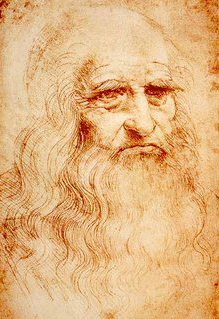 While very young Leonardo showed an intense interest in nature and an extraordinary talent for drawing and painting. His father, Ser Piero, was so impressed with young Leonardo's sketches, he showed them to painter Andrea del Verrocchio who took Leonardo as an apprentice.

Under Andrea, Leonardo apprenticed in painting and sculpture, but was also fascinated with mechanics and architecture. His genius soon became apparent to his master. Although he was admitted into the Painter's Guild in 1472, Leonardo continued his apprenticeship until 1477 when he struck out on his own.

Leonardo considered himself a student of his art and experimented tirelessly with light and shadow to perfect the 3 dimensional quality of his painting. His interests were broad and while working as a painter in Florence began to devise and sketch hydraulic and military machinery.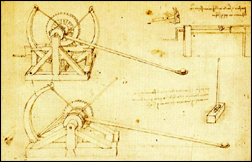 In 1482, Leonard traveled to Milan to seek work as a military engineer. There, he met with the Duke of Milan and secured the position of "Painter and Engineer for The Duke". In Milan Leonardo set up shop where he worked on studies ranging from painting and sculpture to architecture, powered flight, urban design, fortifications, catapult , trebuchet and powder based artillery and other weapons of war. He also continued his study of geometry and perspective, which lead to his discovery of several geometric methods.
It was in Milan Leonardo began his study of anatomy and produced his famous notebooks containing meticulously sketches of his studies. These notebooks, or codices, as later assembled, covered four main areas of study: painting, architecture, the elements of mechanics and human anatomy.
In 1499, Leonardo left Milan. For the next 16 years, he traveled through Italy, working as a military architect and engineer, painter and sculptor and continuing his anatomic studies. In 1503, Leonardo started one of his most famous works, the Mona Lisa .
In 1566, Leonardo accepted the title of "Premier Painter and Engineer and Architect of the King" by France's King Francis the First. Leonardo moved to Amboise, France where he continued his studies and teaching despite suffering a paralysis of his right hand.
Leonardo da Vinci died on May 2, 1519 in Cloux, France.
---
Click on the images below to learn more about Leonardo

---
---
<! Multi-Pack Insert Starts Here>
---
Save up to 50% with Multi-Plan Deals
---
2 Plans $19.95 FREE Shipping - Save Over 30%
U.S. Orders Only

<! Multi-Pack Insert Ends Here> <!Trebuchet Kit Insert Starts Here>
---
| | |
| --- | --- |
| Do It Yourself Working Model Trebuchet Kit | |
---
Trebuchet Kit
Item #TK

$75.00
Free
Shipping
U.S. Orders Only

The trebuchet kit includes fully precut and drilled frame parts, pins and axles, sling cord and sewn pouch, projectiles and fully illustrated assembly and firing instructions.

Unlike the flimsy, snap together plywood trebuchet kits, this all hardwood trebuchet kit does not require additional cutting, trimming or shaping.

This DIY Trebuchet Kit requires only white carpenter's glue and a few bar clamps (not included) to assemble.
<!Trebuchet Kit Insert Ends Here> <! Fully assembled model insert starts here>
---
| | |
| --- | --- |
| Fully Assembled Working Model Trebuchet | |
---

daVinci Trebuchet
Item # T4

$299.00
Free
Shipping
U.S. Orders Only

Inspired by the great war machines and siege catapults of Leonardo da Vinci , this all Red Oak hardwood trebuchet features an open counterweight cabinet for range and trajectory adjustment.

Fire with an empty counterweight for indoor use, or add weight (nuts, bolts, scrap lead, iron or steel, sand, or small rocks not included) for increased range.

Individually crafted from cabinet-grade red oak, the da Vinci Trebuchet stands 14 inches tall in the cocked position, 24 inches tall in the fired position and will hurl a projectile up to 60 feet. Includes six projectiles and fully illustrated instructions.
<! Fully assembled model insert ends here>
---
Leonardo da Vinci Leonardo's Life and Work