How does a trebuchet work?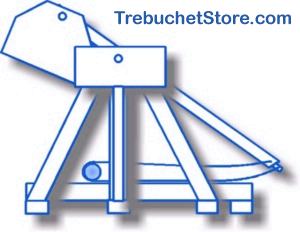 A trebuchet consists of five basic parts: the frame, counterweight, beam, sling and guide chute.
The frame supports the other components and provides a raised platform from which to drop the counterweight.
The counterweight, pulled by gravity alone, rotates the beam. The beam pulls the sling.
The guide chute guides the sling through the frame and supports the enclosed projectile until acceleration is sufficient to hold it in the sling.
The sling accelerates and holds the projectile until release.