---
Repeating Crossbow Plans
Plans for Building a Working Repeating Crossbow

---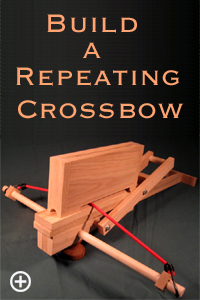 Repeating Crossbow Plans
Build a Repeating Crossbow with these easy, step by step plans and instructions. When complete, this magazine fed repeating crossbow measures 32 inches long and will fire up to 10 bolts in as little as 8 seconds without reloading.
Professional Design
Based on the ancient Chinese Repeating Crossbow, this repeating crossbow uses modern materials, including a bungee cord for a bow, to ease construction while maintaining a historically correct mechanism and action.
Easy to Build
These repeating crossbow plans use common, inexpensive and easy to find building materials, available at your local hardware store or home center. Basic skills and tools are required, but this straightforward repeating crossbow design require no complicated layout or joinery.
The Repeating Crossbow plans come complete with:
Parts Shopping List
Measured Drawings and Dimensions for all parts
Assembly Drawings
Step by Step Assembly Instructions
Step by Step Operating Instructions
All the information you need to complete your repeating crossbow project quickly and easily.
---
---
<! Multi-Pack Insert Starts Here>
---
Save up to 50% with Multi-Plan Deals
---
2 Plans $19.95 FREE Shipping - Save Over 30%
U.S. Orders Only

<! Multi-Pack Insert Ends Here><!Trebuchet Kit Insert Starts Here>
---
| | |
| --- | --- |
| Do It Yourself Working Model Trebuchet Kit | |
---
Trebuchet Kit
Item #TK

$75.00
Free
Shipping
U.S. Orders Only

The trebuchet kit includes fully precut and drilled frame parts, pins and axles, sling cord and sewn pouch, projectiles and fully illustrated assembly and firing instructions.

Unlike the flimsy, snap together plywood trebuchet kits, this all hardwood trebuchet kit does not require additional cutting, trimming or shaping.

This DIY Trebuchet Kit requires only white carpenter's glue and a few bar clamps (not included) to assemble.
<!Trebuchet Kit Insert Ends Here><! Fully assembled model insert starts here>
---
| | |
| --- | --- |
| Fully Assembled Working Model Trebuchet | |
---

daVinci Trebuchet
Item # T4

$299.00
Free
Shipping
U.S. Orders Only

Inspired by the great war machines and siege catapults of Leonardo da Vinci , this all Red Oak hardwood trebuchet features an open counterweight cabinet for range and trajectory adjustment.

Fire with an empty counterweight for indoor use, or add weight (nuts, bolts, scrap lead, iron or steel, sand, or small rocks not included) for increased range.

Individually crafted from cabinet-grade red oak, the da Vinci Trebuchet stands 14 inches tall in the cocked position, 24 inches tall in the fired position and will hurl a projectile up to 60 feet. Includes six projectiles and fully illustrated instructions.
<! Fully assembled model insert ends here>
---
Repeating Crossbow Plans Plans for building a working Repeating Crossbow