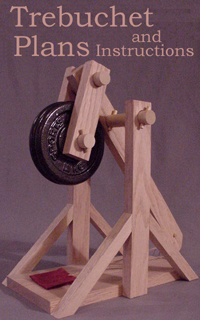 These easy-to-build trebuchet plans use common, inexpensive and easy to find building materials, available at your local hardware store or home center. Basic woodworking skills and tools are required, but the straightforward trebuchet design requires no complicated layout or joinery.

This trebuchet design requires only white carpenter's glue and a few bar clamps to assemble and fits standard weight plates, with 1" diameter hole, up to 5 1/4" diameter and 1 1/2" thick, available at any local discount retailer or sporting goods store.

Once complete, this trebuchet stands 24 inches tall in the fired position, 14 inches tall in the cocked position and will throw a projectile up to 50 feet. The finished trebuchet is extremely durable and loads of fun.

These plans are perfect for trebuchet school projects in Science and History, as well as Science Fair projects.

This printed trebuchet woodworking plans package comes complete with:

Materials Shopping List
Complete Parts List
Measured Drawings for All Parts
Step-By-Step Assembly Drawings
Construction Details and Notes
Explanation of How a Trebuchet Works
Illustrated Step-by-Step Firing and Tuning Instructions
A Picture of the Completed Trebuchet

All the information you need to complete your trebuchet project quickly and easily.