---
Trebuchet Kit
Easy to Buld, all Hardwood, Working Model Trebuchet Kits
---
Trebuchet Kit
Item # TK1

$75.00
Free Shipping
U.S. Orders Only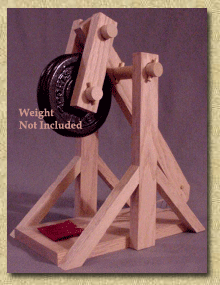 Build your own working model trebuchet in little more than 1 hour (plus glue drying time) with this meticulously engineered working model trebuchet kit. Individually crafted of heavy, cabinet grade red oak and maple, this easy to assemble, all hardwood trebuchet kit is designed to help you complete your project quickly and easily.
This easy to build trebuchet kit includes fully precut and drilled frame parts, pins and axles, sling cord and sewn pouch, projectiles and fully illustrated assembly and firing instructions. Unlike the flimsy, snap together plywood trebuchet kits, this all hardwood, easy to build trebuchet kit does not require additional cutting, trimming or shaping.
Requires only white carpenter's glue and a few bar clamps (not included) to assemble. Fits standard weight plates, with 1" diameter hole, up to 5 1/4" diameter and 1 1/2" thick, available at any local discount retailer or sporting goods store.
Once complete, this trebuchet stands 24 inches tall in the fired position, 14 inches tall in the cocked position and will throw a projectile up to 50 feet. Very easy to assemble, this trebuchet kit is extremely durable and loads of fun.
This trebuchet kit makes a great gift for your favorite medieval, Renaissance, siege engine, SCA, Dark Ages, or RPG enthusiast, as well as students and teachers of History, Warfare and Physics.
---
Click on the images below for additional Trebuchet Kit views.
---
Get The Trebuchet Plans
Materials Shopping List
Complete Parts List
Measured Drawings for All Parts
Step-By-Step Assembly Drawings
Construction Details and Notes
How a Trebuchet Works
Illustrated Firing Instructions
Illustrated Tuning Instructions
Picture of the Completed Trebuchet
---
---
<! Multi-Pack Insert Starts Here>
---
Save up to 50% with Multi-Plan Deals
---
2 Plans $19.95 FREE Shipping - Save Over 30%
U.S. Orders Only

<! Multi-Pack Insert Ends Here><!Trebuchet Kit Insert Starts Here>
---

daVinci Trebuchet
Item # T4

$299.00
Free
Shipping
U.S. Orders Only

Inspired by the great war machines and siege catapults of Leonardo da Vinci , this all Red Oak hardwood trebuchet features an open counterweight cabinet for range and trajectory adjustment.

Fire with an empty counterweight for indoor use, or add weight (nuts, bolts, scrap lead, iron or steel, sand, or small rocks not included) for increased range.

Individually crafted from cabinet-grade red oak, the da Vinci Trebuchet stands 14 inches tall in the cocked position, 24 inches tall in the fired position and will hurl a projectile up to 60 feet. Includes six projectiles and fully illustrated instructions.
<! Fully assembled model insert ends here>
---
Trebuchet Kit
Easy to Buld, all Hardwood Working Model Trebuchet Kits