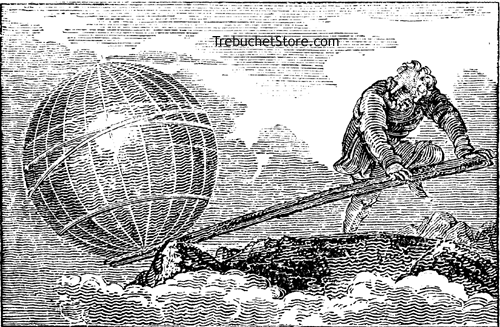 "Give me a place to stand and I will move the earth." Archimedes.
What at first appears a shameless boast by the ancient Greek mathematician and inventor, Archimedes, is really a respectful deference to the power of leverage or, as it is also called, mechanical advantage.
Of course, he would also need a lever and fulcrum of astronomical proportions, but his statement clearly illustrates his faith in physics and simple machines.
This engraving depicts Archimedes using a Class I Lever to lift a globe of the earth.
In reality, the Claw of Archimedes employed levers to lift and break Roman ships during the Siege of Syracuse.
---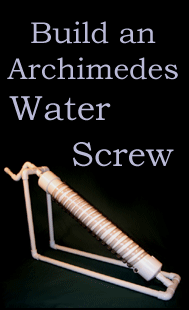 Build an Archimedes Water Screw in just one night with our easy, step by step plans and instructions.

Great Project

Invented in Egypt by the ancient Greek mathematician Archimedes , the Archimedes Screw , or water screw , as it is commonly known, was used for irrigation and lifting water from mines and ship bilges. The water screw works wonderfully for science and history class assignments and science fair projects.

Easy to Build

All TrebuchetStore.com plans use common, inexpensive and easy to find building materials, available at your local hardware store or home center. Basic skills and tools are required, but the straightforward designs require no complicated layout or joinery.

TrebuchetStore.com plans come complete with:

• Parts Shopping List
• Measured Drawings for all parts
• Assembly Drawings
• Step by step Assembly Instructions
• Step by step Operating Instructions

All the information you need to complete your project quickly and easily.

---
---
---
---
Make Your Own
2 Plan Combination
---
Archimedes - Archimedes Lever "Give me a place to stand and I will move the earth."

---
Purchase of TrebuchetStore.com Plans grants the customer a single license for personal, non-business use. TrebuchetStore.com products are protected by United States Copyright Law. You may not modify, duplicate, sell, rent, lease, loan, distribute or create derivative works based on information provided in whole or in part. Please read the complete License Agreement.