---
Medieval Painting of a Traction Trebuchet and Crew During a Siege
Besiegers employ a traction trebuchet against a castle, while the besieged take cover and drop rocks in defense.
---
Unlike the counterweight trebuchet , the traction trebuchet uses men, the traction crew, pulling on ropes attached to the short end of the trebuchet beam, as motive force. Lacking in range and projectile capacity, as compared to the larger, wall-breaching counterweight trebuchet , the traction trebuchet was used primarily as light artillery against enemy personnel and unfortified structures within the castle walls.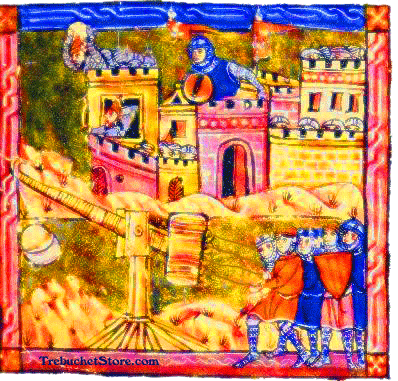 .
Once fired, the traction crew released tension on the ropes and the beam returned to cocked or ready position. This allowed an increased rate of fire over the counterweight trebuchet , which needed to have the beam and attached counterweight winched back into the cocked position. The sling crew then reset and reloaded the sling and the trebuchet was ready to fire.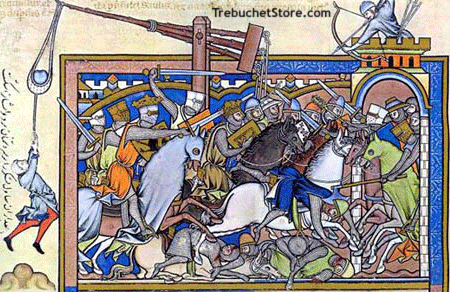 When using smaller projectiles, one or more crewmembers could take hold of the sling prior to firing. This imparted increased tension to the sling and beam and increased range. On command, the sling crew would release their grip just after the traction crew began their pull.
Adding or removing men from traction crew allowed some adjustment for range and projectile weight, but large increases required a disproportionate amount of manpower. As the traction crew increased, the angle of each added rope increased, reducing that rope's resultant force. Consequently. each man added contributed less than the man before.
As projectile weights and fortress size increased, the traction trebuchet evolved into the hybrid trebuchet and eventually the counterweight trebuchet . Massive fortresses encountered during the Crusades required enormous trebuchets and set new standards for siege engines .
More Siege Scenes:

---
---
---
---
---
Make Your Own
2 Plan Combination