---
Leonardo da Vinci
Defensive Trebuchet
---
A sketch from Leonardo da Vinciís notebook illustrating a fixed counterweight trebuchet for long range fortress defense.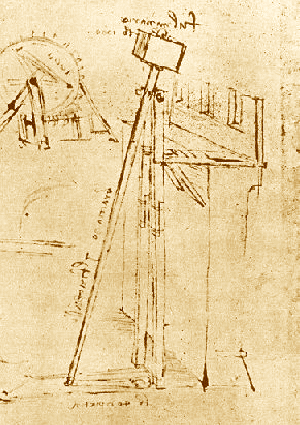 Alone, this single trebuchet would have an extremely limited field of fire. Although the range could be varied by changes in counterweight mass, sling length and release angle , the fixed orientation of the main axle and beam provides only a single line of fire.

da Vinci probably envisioned a system of trebuchets, placed at varying angles about the defensive perimeter, creating an overlapping field of fire within a natural or manufactured approach. This would inhibit the enemy from establishing their own artillery emplacements, forcing them to attempt more dangerous and costly sapping, scaling , or ramming operations.

---
---
---
---
Make Your Own
2 Plan Combination