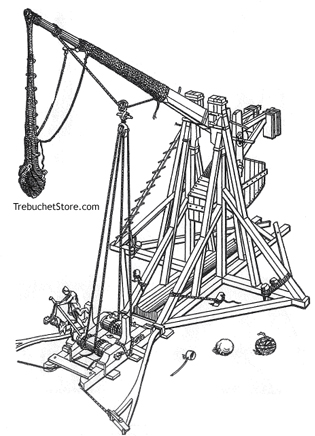 Fig. 213 - A Trebuchet with its Arm Being Wound
Down
Criticism.- Here we have a trebuchet with an arm
at least 60 ft. in length. An engine of such immense
sizes as this would require a score of men at its
windlass instead of a couple. The heavy stone was
placed in the great sling of thick netting which
is suspended to the end of the arm.
The sling was identical in its action with the
one given in fig. 212.
In a book on ' Experimental Philosophy,' by J.T. Desaguliers, 1734 a curious and interesting old work on mechanical effects, the author gives a detailed calculation of the power of a trebuchet, together with plans of the engine as constructed from the writings of Vitruvius.

These drawings are, however, inaccurate, and though Desaguliers' conclusions are exact, he only allows the trebuchet a counterpoise of 2,000 lbs. which would be far too light a weight to be of any service in an engine of the kind.

The trebuchet is sometimes depicted in medieval books with an arm like that of a catapult (i.e. with a hollow in the end of the arm in which to rest the stone), and without a sling , but this is incorrect.

The trebuchet always had a sling in which to place its missile.

The sling doubled the power of the engine and caused it to throw its projectile twice as far as it would have been able to do without it.

It was the length of the arm, when suitably weighted with its counterpoise, which combined with its sling gave power to the trebuchet. Its arm, when released, swung round with a long easy sweep and with nothing approaching the velocity of the much shorter arm of the catapult.

The weight of the projectile cast by a trebuchet was governed by the weight of its counterpoise. Provided the engine was of sufficient strength and could be manipulated, there was scarce a limit to its power.