---
Leonardo da Vinci
Giant Crossbow

---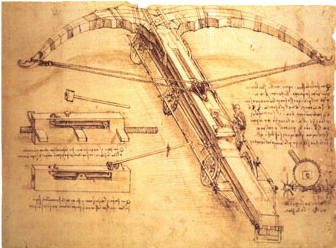 Leonardo da Vinci demonstrates his propensity for the colossus in his famous sketch of a giant crossbow. This scan of da Vinci 's notebook details the laminated bow, winding mechanism and trigger of the crossbow. Scholars doubt anyone every built this crossbow, but large bow like siege engines were part of Greek and Roman artillery long before da Vinci's birth.

Leonardo's notebook also contained studies of a large trebuchet used for defending a fortification and trebuchet and catapult sling release.

da Vinci's crossbow is also featured in the 1903 Ralph Payne-Gallwey book:

Free

eBook
The Crossbow , Mediaeval and Modern, Military and Sporting; its Construction, History, and Management. With a Treatise on the Balista and Catapult of the Ancients.
---
---
---
---
Make Your Own
2 Plan Combination