---
Crusades
Siege of a Mohammedan fortification during the crusades
<< Back
---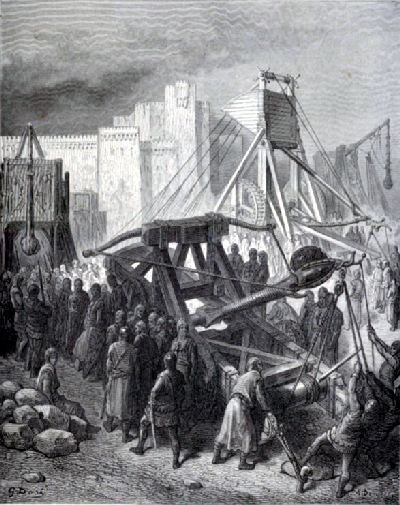 In the foreground is a bow powered catapult, or stone thrower, a cross between a giant crossbow and roman mangonel.

To right is a hybrid trebuchet , a combination of the traction trebuchet and counterweight trebuchet. A traction trebuchet uses men, pulling on ropes attached to the short end of the beam, as the motive force, while a counterweight trebuchet uses gravity and the mass of a stone and earth filled cabinet.

A modern variation of the traction trebuchet use springs or elastic cords for motive force.

To the left is a battering ram showing the hanging ram, suspension frame and protective housing.

---
More Siege Scenes:
---

Crusades Siege of a Mohammedan fortification during the crusades