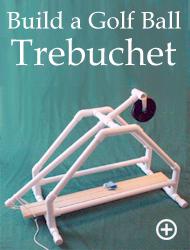 Build your own Golf Ball Trebuchet Catapult with TrebuchetStore.com detailed, easy to follow trebuchet plans and instructions. When built and tuned, this Trebuchet stands just over 40" inches tall in the fired position and will throw a golf ball up to 50 feet.

Uses common, inexpensive and easy to find building materials, all available at your local home improvement and department stores. Perfect for science projects and instruction, the PVC pipe and fitting design makes assembly a snap.

This complete trebuchet plans package includes a shopping list of materials, measured drawings for all parts, step-by-step assembly drawings and instructions, as well as firing and tuning instructions.

---
Please click on the images below for
additional Trebuchet Plan views:


U.S. Orders Only


---
---
Buy both the Golf Ball and Tennis Ball Trebuchet Plans and Save.

Total List Price: $23.90 plus $3.50 Shipping
Buy Together Today:


U.S. Orders Only

International Orders Click Here
---
What our customers say:
I tried a few of the free catapult plans on the web with limited results, then finally ordered several sets from Trebuchetstore. I did not believe the difference. Step by step, from shopping for parts to presentation, it could not have been easier. W.K. New Hampshire more>>

---
Golf Ball Trebuchet Catapult Plans Build a PVC Catapult - Golf Ball Catapult

---
Purchase of TrebuchetStore.com Plans grants the customer a single license for personal, non-business use. TrebuchetStore.com products are protected by United States Copyright Law. You may not modify, duplicate, sell, rent, lease, loan, distribute or create derivative works based on information provided in whole or in part. Please read the complete License Agreement.