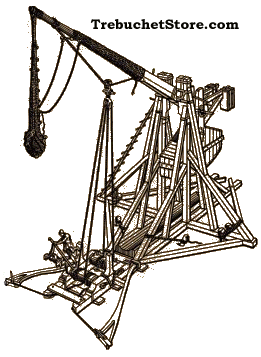 What is a Trebuchet ? How does a Trebuchet work ?

Centuries before the practical use of gunpowder, ancient armies employed handmade artillery against castles and fortifications using enormous throwing machines powered by humans , twisted cord , bent wood and metal, or gravity .

Ingenious and varied in their design , these great siege machines, or siege engines, hurled large stone balls and flaming tar to breach castle walls and set fire to interior buildings.

The trebuchet , or Trebuket , as it is sometimes known, is a direct
descendant of the simple sling , or what is commonly known as a slingshot .

Introduced into siege warfare during the twelfth century, the trebuchet , powered by gravity alone, was the most effective siege weapon of its time.
Now you can own scale, working models of these infamous, gravity powered medieval trebuchets. All of our assembled trebuchets and trebuchet kits are individually
handcrafted from fine, cabinet grade oak and include illustrated instructions and projectiles.

Our trebuchet, catapult and siege engine plans feature measured drawings and dimensions for all parts as well as clearly detailed and easy step-by-step assembly and operating instructions. All our plans use common, locally available and affordable materials.

Our easy to build trebuchet kit includes fully precut and drilled frame parts, pins and axles, sling cord and sewn pouch, projectiles and fully illustrated assembly and firing instructions. Unlike the flimsy, snap together plywood trebuchet kits, this all hardwood, easy to build trebuchet kit does not require additional cutting, trimming or shaping.