The story continues that Archimedes was so excited by the discovery that he ran through the streets naked shouting "eureka, eureka!" (I have found it, I have found it!).6

Another story according to Pappus relates to Archimedes' famous statement, "Give me a place to stand, and I can move the earth, that resulted from his discovery to the solution of the problem, To Move a Given Weight by a Given Force, presented to him by Hieron.

Plutarch also tells the story in his Life of Marcellus 7 , stating that Archimedes declared to Hieron that he could move any given weight with any given force and that if he were given another Earth to move to he would move this one. With this Hieron requested a demonstration whereby Archimedes attached a system of block and tackle (other accounts by Athenaeus indicate that a helix was used, this is a machine consisting of a cog-wheel with oblique teeth moving on a cylindrical helix turned by a handle) to a fully laden vessel that had been drawn ashore by many men and proceeded to move the vessel along smoothly and safely from a great distance by merely pulling with one hand on the device.

It was this same ship that Hieron had built as a gift to King Ptolemy, but the combined force of the population of Syracuse was unable to launch it. At this, Archimedes invented a device that enabled Hieron to launch the ship on his own, whereby Hieron proclaimed, "from that day forth Archimedes was to be believed in everything that he might say." 8

One other invention attributed to Archimedes is the Archimedes Screw , or water screw , as it is also known. This devise consists of a screw within a tightly enclosing box that is used to draw water. Its origin is believed to be in in ancient Egypt where it was, and still is, used to irrigate fields. It was also thought to be used to pump the bilges of Hieron's ships. In The Ten Books on Architecture, De Architectura , Book X , Chapter 6 , The Water Screw , the ancient Roman engineer and historian, Vitruvius, explains the design and construction of the Archimedes Screw .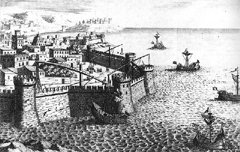 His greatest fame came from the active part that Archimedes took in the defense of Syracuse from the Romans during the Punic Wars of Rome vs. Carthage. While Hieron was alive, the city of Syracuse was loyal to Rome providing defenses for southern Italy. It was with Hieron's death in 215 B.C. that his grandson assumed rule of Syracuse and allied with Carthage. With this, Marcellus of Rome attacked Syracuse in an attempt to control Sicily.
Archimedes was 75 at the time and personally directed the defense of Syracuse. An account of the siege of Syracuse is given in Plutarch's Life of Marcellus. In his account, Plutarch tells of a system of both catapult and crossbow with selective ranges allowing for a continuous assault on the Romans regardless of their range from the city. Other defenses included Archimedes claw , consisting of long poles that dropped large weights through the Roman ships and cranes that grappled the ship, lifting them from the water and then dropping them stern first back into the sea.9
Plutarch states that Marcellus scorned his own engineers, stating, "shall we not make an end of fighting against this geometrical Briareus who, sitting at ease by the sea, plays pitch and toss with our ships to our confusion, and by the multitude of missiles that he hauls at us outdoes the hundred-handed giants of mythology?". But this had little effect on them since the Romans were in such terror that "if they did see a piece of rope or wood projecting above the wall, they would cry "there it is again," declaring that Archimedes was setting some engine in motion against them, and would turn their backs and run away, insomuch that Marcellus desisted from all conflicts and assaults, putting all his hope in a long siege." 10
---
Archimedes Water

Screw Plans


Plan # WS1

Payment Information

U.S. Orders Only
$12.95
Free Shipping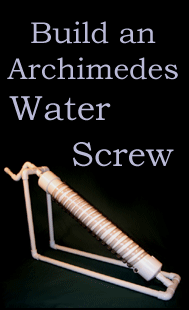 Build an Archimedes Water Screw in just one night with our easy, step by step plans and instructions.

Great Project

Invented in Egypt by the ancient Greek mathematician Archimedes , the Archimedes Screw , or water screw , as it is commonly known, was used for irrigation and lifting water from mines and ship bilges. The water screw works wonderfully for science and history class assignments and science fair projects.

Easy to Build

All TrebuchetStore.com plans use common, inexpensive and easy to find building materials, available at your local hardware store or home center. Basic skills and tools are required, but the straightforward designs require no complicated layout or joinery.

TrebuchetStore.com plans come complete with:
Parts Shopping List
Measured Drawings for all parts
Assembly Drawings
Step by step Assembly Instructions
Step by step Operating Instructions
All the information you need to complete your project quickly and easily.

---
---
<! Multi-Pack Insert Starts Here>
---
Save up to 50% with Multi-Plan Deals
---
2 Plans $19.95 FREE Shipping - Save Over 30%
U.S. Orders Only

<! Multi-Pack Insert Ends Here><!Trebuchet Kit Insert Starts Here>
---
| | |
| --- | --- |
| Do It Yourself Working Model Trebuchet Kit | |
---
Trebuchet Kit
Item #TK

$75.00
Free
Shipping
U.S. Orders Only

The trebuchet kit includes fully precut and drilled frame parts, pins and axles, sling cord and sewn pouch, projectiles and fully illustrated assembly and firing instructions.

Unlike the flimsy, snap together plywood trebuchet kits, this all hardwood trebuchet kit does not require additional cutting, trimming or shaping.

This DIY Trebuchet Kit requires only white carpenter's glue and a few bar clamps (not included) to assemble.
<!Trebuchet Kit Insert Ends Here><! Fully assembled model insert starts here>
---
| | |
| --- | --- |
| Fully Assembled Working Model Trebuchet | |
---

daVinci Trebuchet
Item # T4

$299.00
Free
Shipping
U.S. Orders Only

Inspired by the great war machines and siege catapults of Leonardo da Vinci , this all Red Oak hardwood trebuchet features an open counterweight cabinet for range and trajectory adjustment.

Fire with an empty counterweight for indoor use, or add weight (nuts, bolts, scrap lead, iron or steel, sand, or small rocks not included) for increased range.

Individually crafted from cabinet-grade red oak, the da Vinci Trebuchet stands 14 inches tall in the cocked position, 24 inches tall in the fired position and will hurl a projectile up to 60 feet. Includes six projectiles and fully illustrated instructions.
<! Fully assembled model insert ends here>
---
Archimedes The Life and Work of Archimedes - Page 2